All About Me!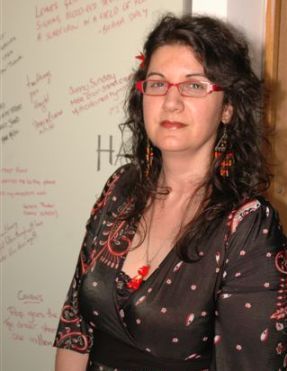 Josie Montano - Children's / Teen Author
I live with my family in Brisbane, and work as a full-time writer. My love of fiction writing began at age 8, where I shelved my self-published stories in the school library. I worked in the primary school environment as a teacher-aide, secretary and library-aide. I have completed a Graduate Certificate in Creative Writing at Queensland University of Technology, Brisbane. My published works are listed here.
Writing Awards
POP STARLETS - South Australian Kanga Awards, - Yr 3 - 5 Focus List 2004
THE BUBBLE - The English 4 - 11 Awards Best Children's Illustrated Books of 2004. English Association. UK - Shortlisted
LITTLE PENGUIN - Notable Book, 2006 Picture Book of the Year Category - children's Book Council of Australia 2006
WOGALUCCIS - Year 6-7 South Australian Kanga Awards 2005
Manuscript Appraisal
I am able to provide appraisal/editing on manuscripts from children's books to adults literature, please contact me regarding my rates.
Testimonial:
Josie Santomauro's editing and appraisal service is excellent. I recently engaged Josie's services for a new manuscript I had prepared. Josie provided detailed comments and useful general advice. Josie's expertise in writing, particularly in writing books for young people and books on disability, was evident in her insightful comments. Josie's edit added immeasurable value to my manuscript and was completed promptly and for a reasonable price. I am happy to say that the manuscript was accepted to be published by the first publisher I approached. I can strongly recommend Josie's editorial and appraisal services. Jeanette Purkis, Author
Author Talks or Writing Workshops:
To book me for an author talk or writing workshop:I am available for talks or writing workshops. To see me in action visit Josie's gallery here.
| | |
| --- | --- |
| South Australia | please contact Booking Agent Carole Carroll either Ph: (08) 8376 4662 or emailc.carroll@internode.on.net. see Carole's website for more details |
| Victoria | Show & Tell ph: (03) 9818 6518 |
| Queensland | Speakers Inc. Ph: 1300 979 465 or Email Helen Bain. See the Speakers Inc. website for more details |
| New South Wales | Creative Net on their website:Creative Net |
A selection of testimonials to my workshops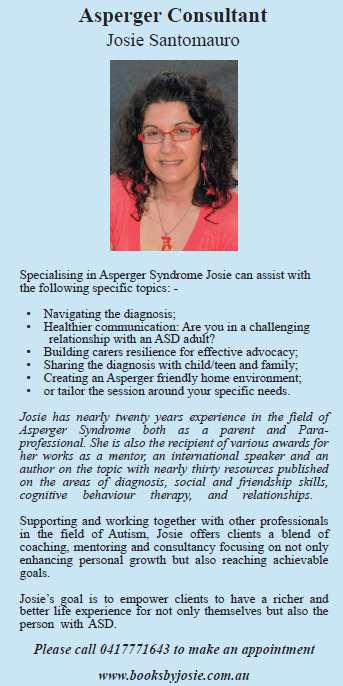 Just thought you'd like to know a little feedback from my son Jayson, who enjoyed your session immensely on Tuesday .. You're now right up there with his favourite literary heroes.

Anita
After Josie's author visit today, Zoe came home and wrote a story, typed and printed, finished her final Judy Moody book and then read the first 2 chapters of an Enid Blyton (because this was how Josie Montano was inspired as a child!). Dale and I were in shock!!

So from 2 happy parents
Josie Santomauro - Autism Author, Presenter & Consultant
I have over twenty years experience in the field of Asperger Syndrome both as a parent and Para­ professional.
I am the recipient of various awards for my work as a mentor, an international speaker and an author on the topic with nearly forty resources published on the areas of diagnosis, social and friendship skills, cognitive behaviour therapy, and relationships.
Please click here for further information on how I can assist you